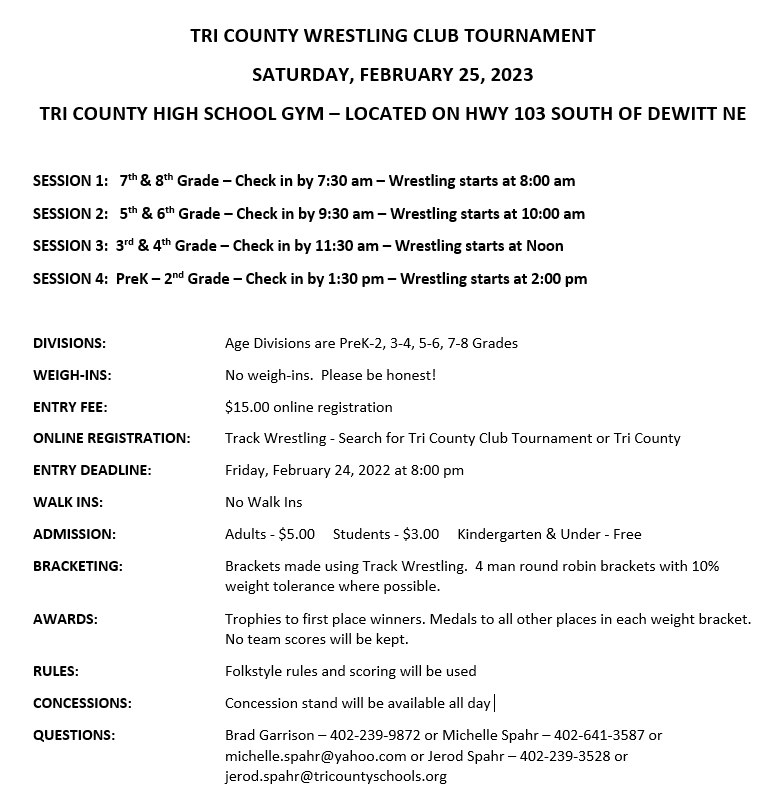 TRI COUNTY WRESTLING CLUB TOURNAMENT
SATURDAY, FEBRUARY 25, 2023
TRI COUNTY HIGH SCHOOL GYM – LOCATED ON HWY 103 SOUTH OF DEWITT NE
SESSION 1:   7th & 8th Grade – Check in by 7:30 am – Wrestling starts at 8:00 am
SESSION 2:   5th & 6th Grade – Check in by 9:30 am – Wrestling starts at 10:00 am
SESSION 3:  3rd & 4th Grade – Check in by 11:30 am – Wrestling starts at Noon
SESSION 4:  PreK – 2nd Grade – Check in by 1:30 pm – Wrestling starts at 2:00 pm
DIVISIONS:                              Age Divisions are PreK-2, 3-4, 5-6, 7-8 Grades
WEIGH-INS:                            No weigh-ins.  Please be honest!
ENTRY FEE:                             $15.00 online registration
ONLINE REGISTRATION:        Track Wrestling – Search for Tri County Club Tournament or Tri County
ENTRY DEADLINE:                  Friday, February 24, 2022 at 8:00 pm
WALK INS:                              No Walk Ins
ADMISSION:                            Adults – $5.00     Students – $3.00     Kindergarten & Under – Free
BRACKETING:                         Brackets made using Track Wrestling.  4 man round robin brackets with 10% weight tolerance where possible.
AWARDS:                                Trophies to first place winners. Medals to all other places in each weight bracket.  No team scores will be kept.
RULES:                                     Folkstyle rules and scoring will be used
CONCESSIONS:                       Concession stand will be available all day
QUESTIONS:                           Brad Garrison – 402-239-9872 or Michelle Spahr – 402-641-3587 or michelle.spahr@yahoo.com or Jerod Spahr – 402-239-3528 or jerod.spahr@tricountyschools.org