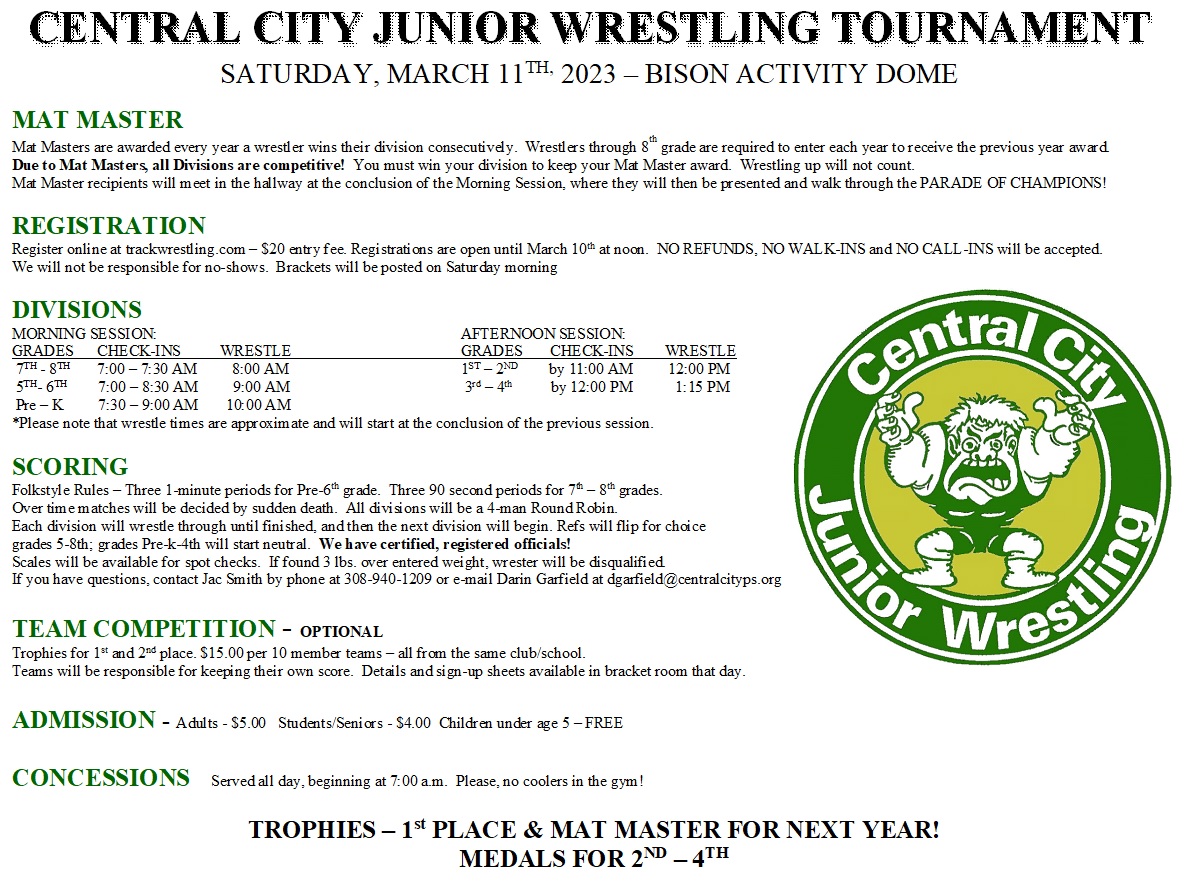 MAT MASTER
Mat Masters are awarded every year a wrestler wins their division consecutively. Wrestlers through 8th grade are required to enter each year to receive the previous year award.
Due to Mat Masters, all Divisions are competitive! You must win your division to keep your Mat Master award. Wrestling up will not count.
Mat Master recipients will meet in the hallway at the conclusion of the Morning Session, where they will then be presented and walk through the PARADE OF CHAMPIONS!
REGISTRATION
Register online at trackwrestling.com – $20 entry fee. Registrations are open until March 10th at noon. NO REFUNDS, NO WALK-INS and NO CALL-INS will be accepted.
We will not be responsible for no-shows. Brackets will be posted on Saturday morning
DIVISIONS
MORNING SESSION: AFTERNOON SESSION:
GRADES CHECK-INS WRESTLE GRADES CHECK-INS WRESTLE
7TH – 8TH 7:00 – 7:30 AM 8:00 AM 1ST – 2ND by 11:00 AM 12:00 PM
5TH- 6TH 7:00 – 8:30 AM 9:00 AM 3rd – 4th by 12:00 PM 1:15 PM
Pre – K 7:30 – 9:00 AM 10:00 AM
*Please note that wrestle times are approximate and will start at the conclusion of the previous session.
SCORING
Folkstyle Rules – Three 1-minute periods for Pre-6th grade. Three 90 second periods for 7th – 8th grades.
Over time matches will be decided by sudden death. All divisions will be a 4-man Round Robin.
Each division will wrestle through until finished, and then the next division will begin. Refs will flip for choice
grades 5-8th; grades Pre-k-4th will start neutral. We have certified, registered officials!
Scales will be available for spot checks. If found 3 lbs. over entered weight, wrester will be disqualified.
If you have questions, contact Jac Smith by phone at 308-940-1209 or e-mail Darin Garfield at dgarfield@centralcityps.org
TEAM COMPETITION – OPTIONAL
Trophies for 1st and 2nd place. $15.00 per 10 member teams – all from the same club/school.
Teams will be responsible for keeping their own score. Details and sign-up sheets available in bracket room that day.
ADMISSION – Adults – $5.00 Students/Seniors – $4.00 Children under age 5 – FREE
CONCESSIONS – Served all day, beginning at 7:00 a.m. Please, no coolers in the gym!
TROPHIES – 1st PLACE & MAT MASTER FOR NEXT YEAR!
MEDALS FOR 2ND – 4TH
Registration Link:
https://www.trackwrestling.com/tw/opentournaments/VerifyPassword.jsp?tournamentId=696596132